Drawing Export Addin for SpaceClaim
"Drawing Export Addin for SpaceClaim" is an integrated addin inside SpaceClaim. It can be used to export 2D Drawing files as DWG, DXF, PDF or as images at ease.
Who should use it?
SpaceClaim users who deal with DrawingSheets (Versions 2015 and later). If you are one, please continue reading.
Why should you use it?
Problem: To save/export a DrawingSheet as a DWG/PDF/Image file, You have to use "Save As" and browse to a location and give a filename. It involves lot of mouse-clicks and typing!!
What if you want to export many such DrawingSheets ?

Solution: "Drawing Export Addin for SpaceClaim" has options to set the 'Export Directory' and can set file name of drawing to be saved, as a combination of different properties, name of the main part, etc.
It can also Export All DrawingSheets of a SpaceClaim Document in one go!!!
The image below explains the Problem (Red Arrows and Callouts) and Solution using Drawing Export Addin (Green Arrows)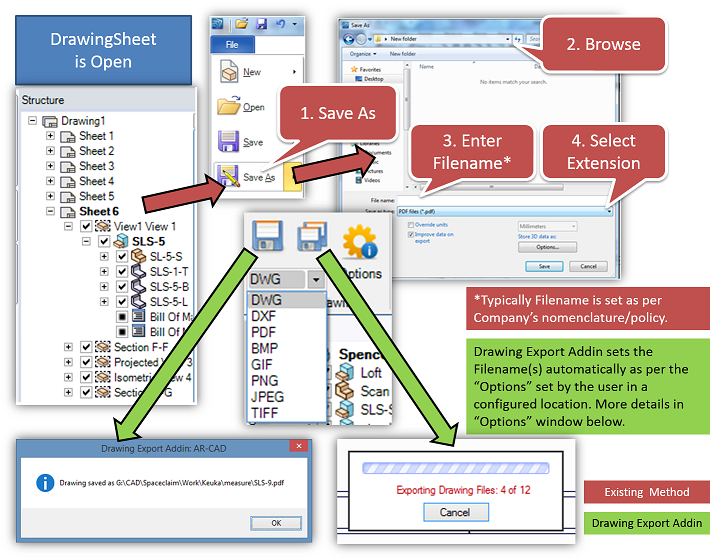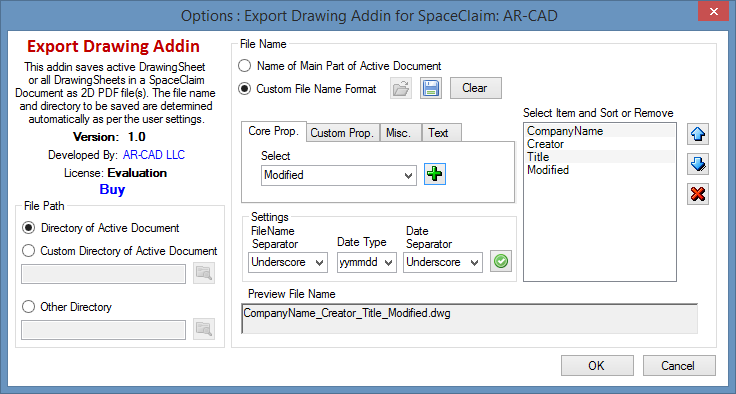 Download
SpaceClaim 2015 onwards
"Drawing Export Addin for SpaceClaim" (V 1.0) can be downloaded here.
Installation and Free Trial (7 Days)
Right-Click on installer (.exe) and "Run as Administrator"
Start SpaceClaim and open a SpaceClaim Document with a DrawingSheet
Open a DrawingSheet
Go to "AR-CAD" Ribbon tab and select an export format type in "Drawing Export Group"
Click on "Active Drawing" (Floppy icon)
License Manager is shown. Enter your details and submit
7 days free trial license is automatically updated
Email is sent to you with User Details
Active DrawingSheet is exported as selected drawing format
If the SpaceClaim Document has more than one DrawingSheets, click on "All Drawings" button
All DrawingSheets are exported in one go!
Click on "Options" button to set custom output directory
Buy
After buying using PayPal, please send an email to info@ar-cad.com, with the transaction details and your machine ID. We shall send you a perpetual license over email.
Issues/Feedback
If you have any issues or feedback/suggestions, please Contact us.
SC-Motion: Motion and Dynamic Simulation Addin for SpaceClaim
We also have developed SC-Motion addin. For further details, please visit here.